Home
Photos
Hiking
Writings
Contact
Copyright
Moose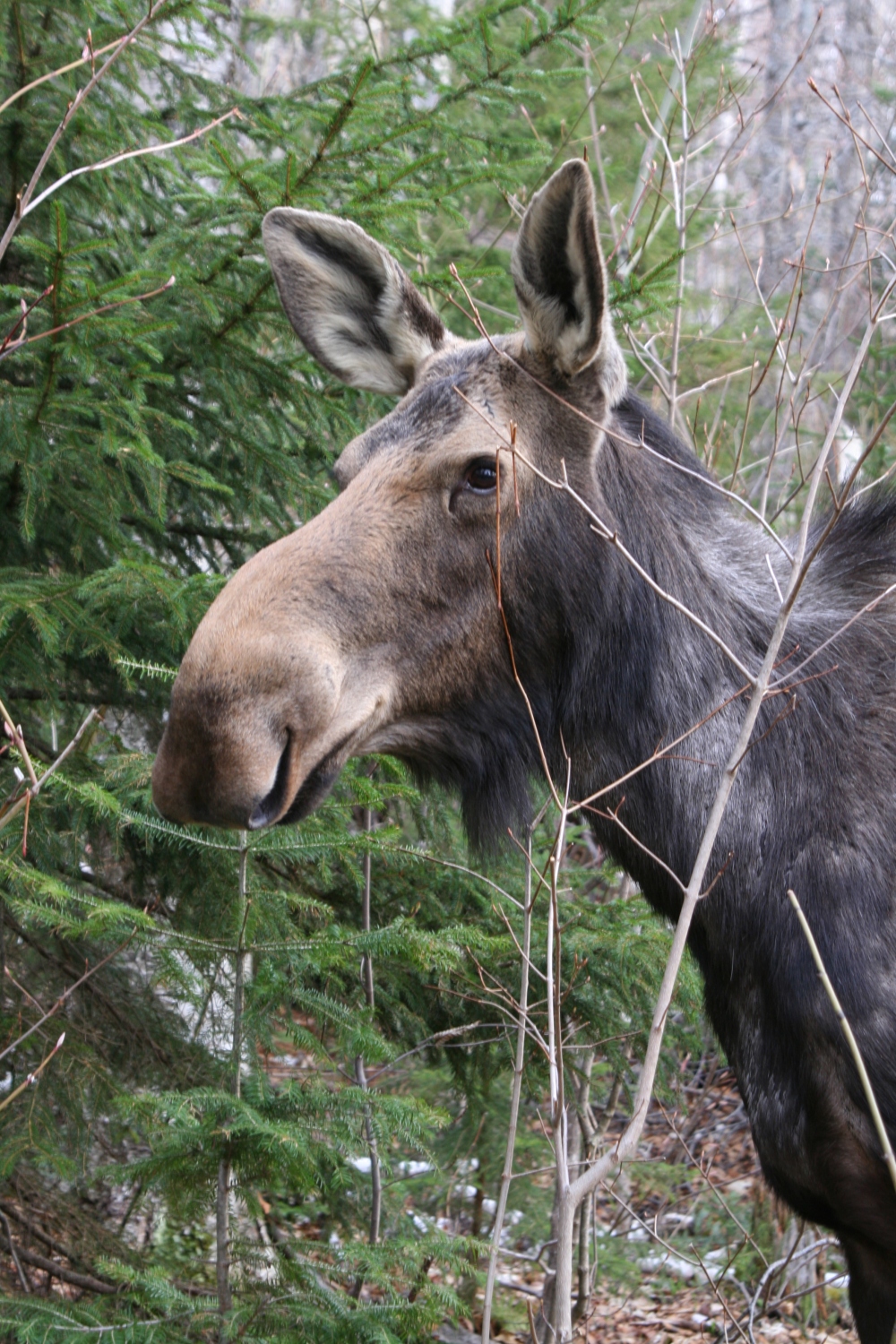 Mt Madison, May 2009
---
An overnight hiking / camping trip.
---
Click a thumbnail to see a full-size photo.
Or, View as Slide Show.
First Plan: Great Gulf
The weather got warmer and warmer, taunting me. For one reason after another, I had reluctantly avoided going on any significant hikes, day after day and week after week. As April ended, I felt a growing need to hit the hills. I decided to do something big on the weekend of May 2nd. Camping, definitely. Elevation gain, for sure. Distance, yes. Solitude, absolutely. Steepness, snow, trailbreaking, maybe some ice, if I was lucky and conditions weren't too suicidal.

One area seemed to offer everything I was looking for: the Great Gulf, bordered by Mount Washington and the Northern Presidential Range. A trail runs along the bottom of the Gulf for nearly eight miles before climbing the headwall to Mount Washington; along the way, some of the steepest trails in the Whites branch off to the other northern peaks. My plan was to set up camp in the Gulf and do a couple of loops as snow conditions permitted. I wasn't sure how much snow remained on the ground, but I figured that thanks to intensive search-and-rescue activity in the area a few days earlier, any drifts on the main approach trail would have been broken through.

The plan had a couple of weak points. First of all, icefall or avalanche risk would put a damper on the steepest parts of the climb. I checked the avalanche forecast for Tuckerman Ravine (the nearest spot for which a public forecast is available), and decided that conditions were as good as I could ask for at this time of year. The second weakness was river crossings: all that SAR activity was the result of a hiker who'd gone off his planned route only to wander back and forth for three days, searching for passable water crossings. I checked my trusty _White Mountain Guide_ and assured myself that there were bridges on the lower crossings along the Great Gulf Trail. Once I got deep into the Gulf, I might still be prevented from reaching the ridge, but at least I'd be able to get back out.

Since I was hoping to climb some steep, snowy slopes, I packed heavy: crampons, ice axe, and snowshoes, in addition to microspikes, tent, sleeping bag, sleeping pad, down jacket (just in case), stove, and food. At the last minute I decided to save a pound or two by wearing my low-top hiking shoes instead of boots.

Saturday morning I left almost on time, and after a dull drive I pulled into the trailhead parking lot at 10:30 AM. Another hiker arrived as I was depositing my parking fee, and I asked if he'd been in the area lately. He told me there was still plenty of snow up high, and he recommended crampons. I decided that meant I'd need snowshoes too. He also told me he'd tried the Great Gulf Trail a week earlier, and turned back at the Bluff due to raging white water. I had to check my map, and when I did I let out a cry of dismay: that was less than three miles up the trail. I was *certain* that the Guide mentioned a bridge at that spot. There's a bridge at the _second_ crossing there, he informed me. This was not good news, but I decided to go see for myself. My back-up plan would be to take the Osgood Cutoff from that spot (almost a 180 turn), set my camp at Osgood Tentsite, climb Mt Madison today, and worry about tomorrow later.

Meanwhile it was a warm, sunny day, and spring was in the air.
| | |
| --- | --- |
| | The first stream crossing was on a suspension bridge right by the parking lot, as advertised. |
| | The river was running strong, as expected. |
| | Hobblebush beginning to bloom. |
| | Red Trillium, Trillium erectum |
| | Red Trillium again. |
| | Another red trillium. |
| | A chipmunk beside the trail. |
| | Painted Trillium, Trillium undulatum |
New Plan: Mt Madison
I stopped for lunch in a little clearing at the top of a high riverbank - this, I soon realized, was the Bluff. An intersection lay just ahead. The Great Gulf Trail plunged down the bank and crossed the stream. I approached cautiously.

The stream was narrow, but moving fast. I could see two options for getting across. Option A involved leaping about five feet from one barely-submerged boulder to another. Not a good option with a heavy pack. Option B involved wading. It looked feasible, but I was certain to get soaked at least to the waist, and if I misjudged the strength of the current... I glanced downstream at an unending sequence of boulders. What finally convinced me was the water temperature. Ever since the conversation in the parking lot, I had half-resigned myself to camping at Osgood Tentsite, and now I didn't have the motivation to take an icy bath.

So I climbed back up the Bluff and took the Osgood Cutoff, which was a pleasant trail through semi-open woods (a mix of birch, hemlock, spruce, and fir). There were piles of moose droppings on the trail (but very few off the trail). Soon I arrived at the Osgood Tentsite. There were two tents already in place, so I hiked in to the farthest spot, out of sight of the others, and set up my tent. I left my sleeping bag and pad, but kept all my other gear in my pack. Feeling ever-so-slightly lighter on my feet, I set out for the summit of Mt Madison.
| | |
| --- | --- |
| | The stream crossing where I turned back. |
| | Just when I could smell treeline ahead, I finally encountered patches of snow. I put on my microspikes just for the sake of using some of the gear I was carrying, but I could have made do without them. |
| | Treeline brought tremendous views. I wasn't surprised to see the sunnier areas above treeline were already bare, but I'd expected more snow in the ravines. |
| | A view into the Great Gulf. |
| | A view back over Osgood Ridge to Carter Notch and Wildcat Mountain. |
| | Felsenmeer on Osgood Ridge. |
| | Caterpillar amid the felsenmeer. |
| | Rimed summit sign on Mt Madison |
| | Mt Adams seen from the summit of Mt Madison |
| | Cairn on the summit of Mt Madison, with rime ice. |
| | Close-up on the rimed cairn. |
| | Heading back down: view toward Carter Dome from Mt Madison. |
| | Another view of Carter Dome from Osgood Ridge on Mt Madison. |
| | View of Mt Washington from Osgood Ridge on Mt Madison. |
Day 2: Visitors During Breakfast
After a lackluster freeze-dried dinner (and not very filling either, as I'd foolishly saved a few ounces by packing an absolute minimum of food), I got into my tent and tried to sleep. (No pillow - more gram-saving lunacy.)

I managed to fall asleep eventually, and in the morning, as I wondered what the temperature was and how long I'd allow myself to stay in my warm sleeping bag, I heard the noise of approaching footfalls. They were too heavy and infrequent to be human. First I got my camera ready, then, muttering a curse on noisy artificial fabrics, I slipped out of my sleeping bag and into a down jacket. I slowly unzipped my tent door and peered ahead. Nothing. I stuck my head out and looked uphill, in the direction from which I thought the noise had come. Still nothing. I got out of the tent and looked more carefully. Stillness and silence, everything I saw had leaves or needles or was a rock. I was certain I'd heard footsteps approaching, so all I had to do now was wait for the moose or bear to step a little closer and come into view. I had just about decided to make breakfast while I waited, when I decided to take one more look all around. Directly behind my tent, two pairs of eyes were watching me.
This is Mama.
Look behind Mama, and you can see Junior.
Junior stayed close to Mama at first.
Then Junior stepped forward to say hello.
Junior is a yearling - probably female (no sign of horns starting to grow).
Junior stepping closer.
Meanwhile, Mama Moose was keeping an eye on me.
She kept coming closer to stay near Junior.
Not a very friendly look, is it?
Junior Moose may have thought she was hiding.
The moose would come to a complete stop with every step, and look and listen in all directions.
Mama Moose getting even closer.
Look closely and you can see the spruce twig she's chewing.
Junior makes up her mind to leave her hiding place.
Junior checking me out.
Zoomed in on the yearling moose.
Yeah, so I took a ton of photos of the young moose, so sue me.
mama moose still hovering nearby.
This photo with my tent in the frame gives a good sense of scale and distance.
Another moose close-up.
I wonder what she's looking at?
Mama moose again.
Junior giving the branches a sniff.
Still looking around constantly.
Mama still on guard.
Young moose reaching for a snack.
I think this one is my favorite.
Mama moose was getting really close now...
mama moose profile.
Last shot before I ducked behind a tree.
Mama moose now level with my position.
Mama moose snacking on firs.
Mama moose moseying along.
Final close-up of mama moose.
Parting shot of mama moose.
Junior moose following mama.
They're sill moving extremely slowly, so I have time for another shot...
Junior looking back at me after Mama has moved on.
Junior came back for a second visit!
Close-up on a curious youngster.
Startled by a squirrel, and looking for mama.
A more normal, calm expression.
Last glance back after being called away by Mama.
Hobblebush leaf buds.
Another hobblebush, with leaves slightly more expanded.
Red trillium, trillium erectum
Also known as purple trillium or blood trillium.
this is the only drooping trillium species I know of, so why's it called erectum?
Another photo of the red trillium.
One more photo of the red trillium.
Trout lily (Erythonium americanum)
Trout lily usually grows in clumps.
One more trout lily photo.
Painted trillium, trillium undulatum
Closer view.
Bluebead lily (Clintonia borealis) buds
Hobblebush in flower.
More hobblebush.
Hobblebush again (playing with depth of field).
Sessile bellwort, Uvularia sessilifolia
Bluets, Houstonia caerulea
Some kind of violet, possibly downy yellow violet, Viola pubescens
Ferns.
Early saxifrage (Saxifraga virginiensis).
Dutchman's Breeches, Dicentra cucullaria
More dutchman's breeches (with maple shoot behind them)
spring-beauty, Claytonia virginica
American Toad, Bufo americanus
Another red trillium.
More dutchman's breeches.