Home Photos Hiking Writings Contact Copyright

Favorites by Subject Chronological
David Albeck's Photos of Nympheales
plantae > angiosperms > Nympheales

The order Nympheales consists of water-lilies and a couple of related families. Plants in this order, while still angiosperms (true flowering plants) are considered to reside on a separate evolutionary branch from dicots or monocots.

The water-lily family Nympheaceae originally included the lotus, but now has been split. Water-lilies, as just described, now have their own order Nympheales, on their own branch outside the dicots, but lotuses are still considered dicots, and are grouped with Protea on order Proteales.

---
Water-Lily Family (Nympheaceae)
plantae > angiosperms > Nympheales > Nympheaceae

Aquatic plants totally unrelated to true lilies. They rather resemble lotuses but are not related to them either.


Nymphea sp.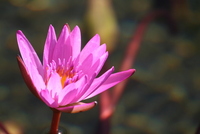 Nymphea sp.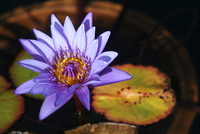 ---